My mom turned 50 on Dec 16. I thought that would be a scary time for her, so I came up with a distracting gift, I thought, let's give her a one week vacation as a gift. Thinking of places to go, Barcelona sounded the best. I knew it had architecture, beaches, history and mild winter climate. I thought it would be good to be in a place where I can read the signs and speak to people. I thought I could speak Spanish until I got there I found out that while they do understand it, the people of Catalonia won't really speak it.
On arriving at the airport, I spoke to a kind information office lady and bought a detailed map of the city in which our hotel was at the opposite end of where we landed. Got a cab, told the guy where to go in Spanish and proudly took off. 30 minutes and not one traffic light stop later we were at the 4* Vincci Con dal Mar, a very pleasant hotel, with a minimalistic design and very Zen atmosphere. I chose a hotel that was close to the beach, the metro station, and was in a new area built for the Olympic games. That same afternoon we went out for our first walk and our first meal.
My first impressions was that the neighborhood was stunningly clean, with very well organized traffic. We took a walk in a very futuristic looking park, then took off to a mall to get something to eat. We had some great Thai food, and were happy that the sea is so close that all seafood was fresh and tasty. We planned the first day.
THE GOTHIC TOWN
We spent the whole day exploring the heart of the Barri Gothic, with small winding streets, hidden yards, cathedrals and small antique shops. Beautiful trees, happy looking people and not too many tourists.
The main tourist street which takes you from the square to the sea port is about 1.5 km long and was planned as an architectural parade of modernistic houses, everywhere we looked, there were building upon buildings of beautiful architecture. The facades didn't look old, on the contrary, they blended in with contemporary construction. Anywhere we looked, I just wanted to pull out my camera and use up all my shots.
We had our first coffee at a chocolate and coffee shop over 100 years old, in La Rambla, the main walking street. Very deep and penetrating bite of chocolate served with each coffee made it worth every second. The exterior of the shop was amazing - colorful mosaics, shiny windows and fairy tale decoration. The waiters were fast, a tad snappy and very busy. I was proud to order in the local speak!
Here are a few pictures from the cafe!


The beautiful exterior!
I love small alleys like this and the old town abounds in them!
The house with the umbrellas. Used to be an umbrella shop, now houses a bank! Juan Miro is author of the dragon on the side!
This dragon!
The Gothic town is like unwrapping a present. Inside the stone walls are cathedrals, museums, churches, hidden courtyards, geese, tangerine trees, palm covered alleys, birds, small markets.
Like this little balcony, on one of the entrances to the Gothic town!
Or think about walking through a dark alley and stumbling on this yard, that turns out to be a plaza!
Placa del Rei!
Fountain in the Barcelona Cathedral yard.
Unfortunately, the beautiful exterior of the cathedral itself was being restored!
Too bad!
So we kept exploring the streets like this:
Every door, every lamp is worth marveling at!
We kept finding small squares everywhere, like the back of the archaeological museum here!
Or the entrance to this building! It houses administrative staff and the fountain and palm tree. The mosaic walls are centuries old!
The museum itself is so large it would take you over 3 days to look at it all, we only had time to walk under the remains of the old roman wall, very well preserved before the museum closed for a 3 hour afternoon siesta! I think most people would be pleased to have seen just the exterior, with the high walls, thick shadows and complex ornaments!
The museum has a few levels, and a fully preserved church inside!
From La Rambla, we went west, to try to find an old church and monastery. One tricky thing about having a map as your only guide is that you eventually end up in a bad neighborhood, with no tourists around and small shops with dead chickens hanging off the ceiling, weird smelling cafes and small dingy bakeries. People smiled though and my mom proudly said this used to be a really bad neighborhood but look now, how much better they made it, no drug dealers or nothing. I am just glad we made it here after they made it safer.
Iglecia de Sant Paul de Camp
Funny, on the way back, we saw a huge cat sculpture, that turned out to be the work of Colombian Artist Botero! No guidebook told about it and it seems like the statue has been in Barcelona for over 20 years!
From the back, it looks like a huge hipo and is known as the Fat Cat Sculpture!
Here is Botero's version of the
Mona Lisa!
The Gothic town also hides official buildings, like the town hall, and government palace, which I didn't find all that striking, but the commotion around them was. We kept walking toward the Picasso Museum, which had an entrance you could reach from 4 sides, and thanks to my Spanish language skills we made it inside after not too long of a misunderstanding.
The museum contained over 3000 pieces of his work, some of which so popular it's hard to believe they actually exist in original. There is something about seeing a piece of art too much that makes you marvel at the fact it really exists somewhere, in a semi pristine version. I was most impressed by his ceramics and early work, before he went into the experimental and cubist phases.
We ended this trip walking down to the central train station, and sitting for some wonderful coffee! We saw this interesting fountain like structure that just made us wonder!
There is something about Barcelona that makes you want to paint, play music or at least fall in love! It would be a wonderful place to write a book.
Started two of the most sightseeing filled days at the central Plaza de Catalonia in the famous cafe Zurich...again, the best coffee in town. We got on those blue touristic buses that let you get off at sites so you can make the most of your day.
A CITY OF GAUDI
What gives Barcelona its architectural splendor, it's fairy tale like atmosphere and growing beauty is definitely due to the genius Gaudi, who lived a humble and charming life, away from society, but immersed in beauty. He had the chance to live in an era where people revered great minds and in a country where his genius was supported so that his visions could come to life.
The Casa Mila, also known as the rock quarry, with its ocean like exterior and chimneys like smoke. We had the chance to look inside, where apartments from the early 20s look amazingly modern, spacious, well-lit, and lavishly furnished. I can only imagine waking up and walking on one of those balconies!
A beautiful place to take a walk if heights are your thing!
And if you enjoy stairs!
We went on to the Sagrada Familia, a project Gaudi knew would take more than his lifetime to complete. He meant it to be a a cathedral for people to worship their lord together. He wanted it to be built entirely of donations. Strikingly, it's such a huge endeavor, it's taken almost a hundred years to build what we see today and it's constantly in construction. It's a miraculous site, mixing what was built while he was alive, what his contemporaries made of his drawings and what will probably take wild imagination to complete! It's nature built inside stone. It's trees that turn to ceilings and battle scenes that thrust swords inside walls, it's nature and fruits and animals and gardens and sand and trees all rolled up into one ever growing cathedral!
First view of the cathedral!
When Gaudi was asked if he is worried he will never see it finished, he said that he is building for someone who has all the time in the world. The Lord is in no hurry, he said. Indeed.
Right above the entrance! Тhe details are stunning!
Gaudi's works were very much inspired by the ingenuity of nature. Even the columns inside were meant to look like tree tops, for the light to shine down like it does through a tree canopy!
This section was done while Gaudi lived, and you can tell!
The park Guell was built to show that Barcelona could have it's own British style beautiful gardens, funded by Guell and designed by Gaudi, the gardens are breathtaking, on a nice small hill, where now there are houses, private schools, shops and restaurants. It was a refreshing hike up to see a fairy tale land unfold!

The two houses at the entrance all made of ceramics/mosaics! Sugarlike!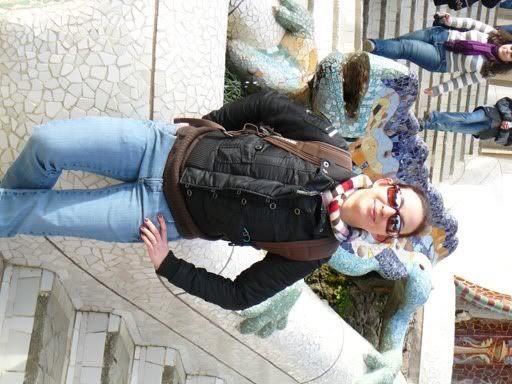 The world famous lizard fountain!
The columns make you feel like you are in the deep heart of the forest, among century old trees and support a very large terrace, laced with beautiful benches!
The pointy house was where Gaudi lived and now is turned into a museum!
He lived a humble and beautiful life, most of the objects in the house were handcrafted as if from another world! Soft lines, touches of nature and lots of wood and color are everywhere!
They say Gaudi had his workers sit in the benches so they could be molded perfectly to the back!
Walking on the sides of the terrace overlooking all of Barcelona all the way the Mediterranean, there are what seem like sandcastle molded columns, very much like sea waves, supported by women statues, as if suddenly appeared in the stone.
Feeling small here!
On the way back, the bus turistic stops at the Barca football stadium. Most of the people get off here to look around and take a tour. We just didn't feel like football that day.

THE PLAZA ESPANA AND MONJUIC

A cold and windy day followed, but the weather was kind, no rain. We proceeded to the Placa de Espana, something as big as the red square. You are met by two large red columns that open space to a long succession of water fountains, then in the distance is the Museum of art, which used to be a castle!

Not extremely ornamental, but very impressive!
Museum of Art! They have a ton of stairs, since this is actually Monjuic hill, that has a lot of sites on it, some of which we proceed to see!
The people of Barcelona had the foresight to build a small village that contains replicas of typical Spanish village buildings, each carefully marked. The site also contains craft shops, galleries, restaurants, it's wonderful, clean, realistic and picturesque, it's amazing that they did it almost a hundred years ago!
As we enter, small shops open up to the left and right! There is glass being blown, clay baked and embroidery made, very very calm and inspiring atmosphere!
There are stairs, alleys and entryways everywhere you look that take you to a different spot!
I love the Mediterranean looking part!
You could almost believe you are in a real village!
On the way back, we looked at the port from the high point of the Miramar gardens, the weather was not welcoming, but the view was great! Here is a low point in our trip when we got somehow lost on the map and could not locate the famous cactus gardens. We walked around confused, got very cold then went on to see the aquarium!
Тhe Barcelona Aquarium is famous for its 80 meter glass tunnel. I was stunned at how huge the sharks are. Having worked in the waters of the Caribbean, I knew these weer full size reef sharks. I loved seeing the stingrays, my favorite see creatures! It was a wonderful trip underwater, even if for a couple of hours.
The coolest creature that I saw was this tiny seahorse that looks like a piece of floating grass!

Back outside we had some wonderful fish at the port and kept exploring!
We walked out into a neighborhood I wanted to see, because the beach was there. It was all parallel streets, wonderful small houses...


...and churches like this! Barceloneta is wonderful!
To the west, the Port Villa opens up!
We finally made it to the beach where the wind was insane, but it was wide open space, the sound of the waves, people walking against the wind and the feeling of this place being absolutely gorgeous when the weather was nice, but oh well!
Can you way "wiiiind!"
Shortly after dusk, we got terribly lost in that small neighborhood, ended up walking in the wrong direction, felt dumb for about half an hour, then asked for directions and got back safe! If you have to get lost, this is the perfect place for it!
We left the walk in the Ciutadella park for the last day. The weather was kind, some drizzle, but just enough to make the air fresh and not to dampen our tourist spirit.
One of the two statues at the entrance of the park, where funny enough, you can even drive, if you keep it under 10 km/hr.

The Catalan Parliament. You can get very close even during working hours. I didn't seem like it was open for visitors that day.
Another major sight in restoration. Despite the cold, ducks, gulls and swans are walking around, swimming and creating commotion.
This is what it looks like when not in restoration!
The museum of zoology, apparently not in restoration!
There were many many school children all over the park writing assignments. They were also using tangerines from the trees to throw at each other :)
This was right at the north exit from the park and on our way to look for the Arc de Triumph!
The broad walkway is boarded by ornamental lights, benches and tall palm trees.
The arc!
This enormous brick arch served as the entrance to the 1888 World Exposition site.
Close shot of the ornaments! Remarkable!
Every night, we would think of the picture of the Santa Ana cathedral and wonder how we missed it. We set out on a small trip to find it in the late afternoon. We sure did! It was a block away from the Picasso Museum and well hidden among the walls of the Barri Gothic.
The entrance with its ornamental doors!
It's truly amazing that from the inside all these windows are painted, but you couldn't tell from the outside!
See?
We later had a wonderful cup of
cappucino!!! One of the best ones in my life :)
We took a walk to a shopping mall, by the amazing skyscraper called Torre Agbar. It was built to look like the peaks of the Monserrat mountain, but it's more like a huge out of place geyser.
Pedestrian view!
We did some shopping, had some wonderful salad and calamari for dinner and spent our last night happy that we had done our best to see and feel Barcelona. We decided that we would spend the next morning walking around the Gothic area again, we just wanted to breathe that atmosphere again!
Needless to say, that last day we saw some old buildings that we had missed. Sometimes what's so close can seem invisible. Like these lights at the hotel. I only saw them seconds before leaving!
They were free hanging from the ceiling, like soap bubbles!
In recap, I am planning another trip to Barcelona. I would like to learn the language better before I do that, and visit more of the surroundings. Fall sounds like the best season for it!